Rent vs Buy: Which Costs You More?
Did you know that buying a home is often cheaper than renting? Here's why buying wins the rent vs buy conundrum almost every time.
If you have lived in the Portland Metro Area for a while, you know that there was a time, even just a few years ago, when the cost of renting a home was on par with the rest of the nation. Recent years have seen a dramatic upswing in the cost of housing in the PNW, and renters have been getting hit hard in their pocketbooks. This type of market brings up the age-old question: rent vs buy? Which one is cheaper? Research has shown that in today's market, buying costs the average home owner significantly less than renting. Here's Why:

Lower, More Predictable Monthly Costs
If you rent, you are at the whim of your landlord. They set your rate and can change that rate in accordance with your rental agreement, which can get scary very quickly. We recently heard from a family who moved to the area 5 years ago and rented a 2 bed, 2 bath apartment in a good area of Vancouver for just $700/mo. Over the years, the same apartment has more than doubled to $1500/mo. With interest rates at their current level, a $1500/mo payment could cover the mortgage, taxes and insurance on a $250,000 property. For rent vs buy, buying wins here.
If you want to rent a house, you are looking at an even greater cost per month. The average house rental in Vancouver, WA is $1,800-$1900 and it increases from there depending on location and square footage. In the rent vs buy argument, buying wins here. Not only could $1900/mo potentially buy you a $300,000 home, standard 30-yr fixed mortgages are just that – fixed. Your monthly payment stays the same unless you refinance, so instead of your house payment going up 7-10 percent every year like it has in the past, you get to happily sit back and relax knowing your home is building up equity.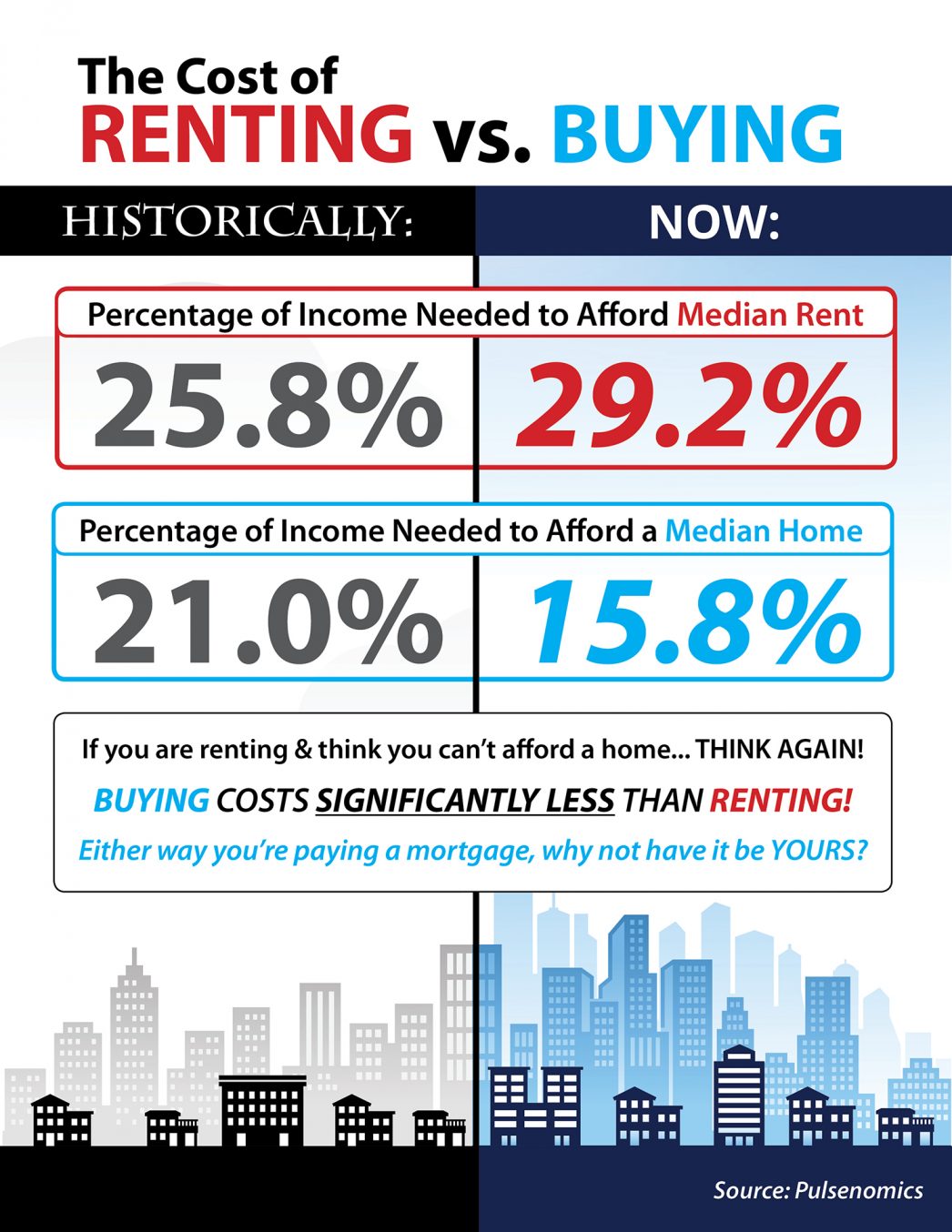 Maintenance and Repairs
Before anyone calls for my head, I will concede the fact that homes can come with a lot of costs associated with maintenance and repairs. This is really a pivotal argument in the rent vs buy debate. But remember, when a landlord takes on a rental, they build those maintenance and repair costs into the rent payment. It isn't profitable for them to just absorb those costs. When they calculate the rental rate of a property, most landlords add a buffer – sometimes a few hundred dollars – on top of their mortgage payment to cover these everyday costs. So the next time you thank your lucky stars that you didn't have to buy that new dishwasher, remember you may not have picked the model, but you probably paid for it.
The Best Tools to Make the Choice
We obviously want to help everyone buy a home, or we wouldn't be in the business of real estate! But only if it is the right time, at the right price, and at the right place. There are absolutely times when buying a home is not the best option for you and your family, and that needs to be considered in the rent vs buy discussion. We are happy to sit down with you, connect you with a lender, and help you make an informed choice on the matter. At The Hughes Team, our clients are everything to us, and our integrity is worth more than a sale. Contact us today to schedule an appointment to meet one of our top agents and see whether buying is a good choice for you.